Home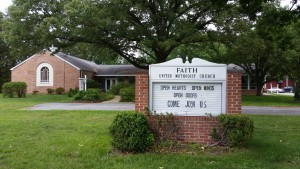 WELCOME to Faith United Methodist Church!
Faith United Methodist Church has served the Accokeek area for 61 years.
Faith UMC is a friendly place for youths, adults, and seniors seeking to serve the community and grow in Faith of our Lord Jesus Christ.
A small, but very dedicated congregation accomplishes all of the above.  Additional members are welcomed to expand our ministry.  We invite you to participate with us in worship on Sunday mornings and in our mission to serve the community.
Helping Those In Need
Faith United Methodist Church in Accokeek provides food for a week to 50 families with as many as 6 children at its food pantry
We also distribute articles of clothing and food to 150-200 homeless people every Sunday night on the streets of Washington D.C.
Faith UMC even operates a thrift store which is open each Friday and Saturday from 9:00 AM to noon.
Make A Joyful Noise To The Lord
Faith UMC has a fantastic praise band that plays and sings before the Sunday worship service every week
Faith UMC also has a terrific choir that sings two numbers every Sunday
Along with all of that, Faith UMC features organ, piano, and even trumpet music during Sunday worship service.